If you struggle with feeling grateful but feel strangely drawn to keep a gratitude journal anyway, you might appreciate this funny personalized Gratitude Loading 8.5 x 8.5 Spiral Notebook from my Zazzle shop. Choose your cover style, choose checklist, bullet, writing or other paper types, choose your spiral color – and if you want to, you can even change the color of the book and the font too. Also available as an 8.5 x 11 notebook, t-shirt, coffee mug, magnet, keychain & more. To see the complete collection with current promo code and prices, click here, For a tip on how to feel grateful more easily, check out the blog past here.
Check the "Now On Sale In The Zazzle Marketplace" box below to see if the items featured below are on sale today. Join my announce only group or follow me on Instagram to be notified when Zazzle offers are updated.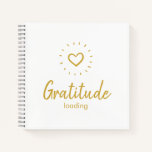 Funny Gratitude Loading NotebookShop Now!
NOW ON SALE IN THE ZAZZLE MARKETPLACE!

Shop personalized wedding, birthday, baby shower, t-shirts, business supplies, one-of-a-kind finds, holiday, officially licensed brands & other gifts! Thru tonight 11/28, use code CYBERMON2022 to:

🌲 Save up to 50% on holiday cards, stickers, labels, calendars, posters and other Cyber Monday Deals.
🌲 Check out the Deal Of The Day – 50% of mugs!
🌲 Take 25% of everything else.
🌲 Get FREE SHIPPING and EXCLUSIVE OFFERS when you use Zazzle Plus.
🌲 Get extended returns thru 2023!

Offers good thru tonight 11/28/2022 and 11/27/2022at @ 11:59:59 PM PT.  Terms and exclusions apply. Check Zazzle Offers link on my Shop Latest Zazzle Offers page for more details.

Shop Mugs | Shop Early Black Friday Deals | Shop Holiday Cards

Shop Christmas | Use Holiday Card Makers | Shop Gift Guides | Buy E-Gift Cards

*** SUPPORT ARTISTS & TAKE AT LEAST 15% OFF EVERYDAY! ***

Zazzle Offers | Zazzle Returns | Zazzle Plus | Zazzle Refer A Friend | Zazzle Student Discount