If you're looking for a sweet something to give a friend who's gotten a new kitty, or a cat lover friend who has perhaps moved into a new home, you might appreciate this sweet purple vintage inspired blessed With Love Ginger Cat Quote Postcard from Zazzle! It's available in matte or semi-gloss paper types, comes with or without envelopes, and is lined and heart stamped on the back for an added touch of love and your convenience. Buy it as is or easily personalize it with your own cat photo. Purrfect for personal and pet related business use. Also comes in antique green and as a personalized greeting card. To see the complete collection, which also includes posters and faux canvas prints, click here.
Check the gray box below to get the latest Zazzle offers and promo code and see if these items are on sale today!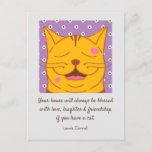 Cute Ginger Cat Blessed With Love Quote PostcardShop Now!
What's On Sale In The Zazzle Marketplace Right Now?

Shop personalized wedding, birthday, baby shower, business supplies, one-of-a-kind finds, back to school, holiday, officially licensed brands & other gifts! Thru Friday 8/12, use code CREATEDBYYOU to take Up to 50% Off business cards, stickers & other gifting supplies! Plus, get $25 to spend when you refer a friend and FREE SHIPPING and EXCLUSIVE OFFERS when you use Zazzle Black. Offer good thru Friday 8/12/2022 @ 11:59:59 PM Pacific Time. Some exclusions & restrictions apply. Click "Shop Now" and "Refer A Friend Get $25" for more details.

SHOP NOW!

Shop Back To School | Shop Halloween | Shop Christmas | Shop More Zazzle Gift Guides

Shop Wedding | Shop Birthday | Shop Baby Shower | Buy Gift Cards | Zazzle Offer & Promotion Details | Learn More About Returns | Learn About Zazzle Black | Refer A Friend Get $25