What made you feel happy today? What inspired you today? What did you feel good about today? How did a person, place or thing help or assist you today? Write your answers down on these pretty and FREE printable "3 Things To Be Grateful For" daily gratitude practice worksheets. Available in pink, sky blue, sage green, yellow, multi-colored (pack of 4) and black and white. Great for using on their own or inside a 3 ring binder planner.
All links are via Dropbox. Similar pages like this are also ready to order for printing in my Zazzle shop. Take a look at the complete collection here. If you're downloading the free pages and would like to compensate me for my efforts, you can buy me a yummy cup of coffee by contributing $5 to my Paypal account here. Thank you in advance. 🥰
Pink 3 Things Daily Gratitude WorksheetShop Now!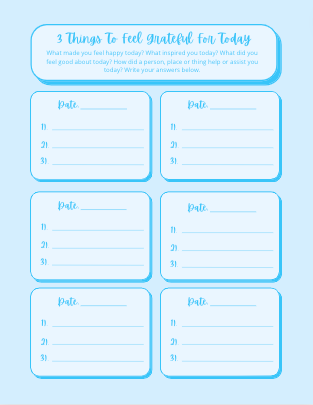 Sky Blue 3 Things Daily Gratitude WorksheetShop Now!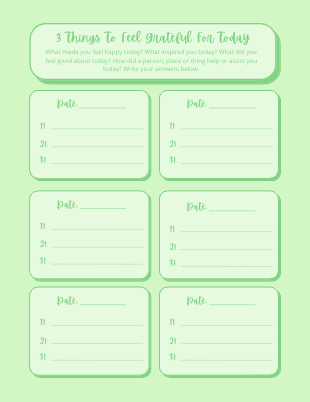 Green 3 Things Daily Gratitude WorksheetShop Now!
BTW, if you need more tips for practicing gratitude, here's some: 1). Notice Your Feelings & Keep A Running List of the things that make you feel happy or bring you joy throughout the day. This is great if you spend most of your time working in the same general area each day – especially if that area feels like a sweet spot to you. Or, you can write your gratitudes in a small notebook you keep in your pocket. 2). Look For Hearts. Believe it or not, they're everywhere. Looking for them can help get you into the practice of noticing things you may not otherwise notice. Plus, looking for hearts helps open your heart chakra which can help you become more receptive to feeling grateful automatically. 3). Look For The Benefits Or Positives – find something in your world and take a moment to take note of how it benefits you and your life. This can help you spend some good time in the present moment, wire your brain to help you think more positively, and help you feel more grateful for things in the world around you. For more info on how to find the benefit in something, check out the blog post here. 4). Get On Pinterest Or Instagram and search the hashtag #gratitudeprompts. There are some nice ones out there! and 5). Hand Write Your Gratitudes if/when you can. Doing this will help facilitate heart, brain, hand and eye coordination. It will also help you develop a nice connection between you and your body, and help you better appreciate all that it does for you each day.
So what 3 Things are you feeling grateful for today? I'm feeling grateful for sunshine, coffee and Sundays. Thanks for reading! Hope you feel the love that's always within and around each and every one of us today! 👍🥰🥰🥰👍