Watch The Video Read Aloud Here
This week, fromaparrottsnest – the Dodgers started a game against the Cleveland Guardians in the 3rd inning this morning, and Paul and I survived hurricane Hillary. For us, she was nothing more than a terribly stormy rainy ol' day, but for others who live north of us, she was varying degrees of a lot more. Even so, I think we all did OK considering.
In other news…
✅ My desire and thirst for learning finished leading me through the ringer and down the rabbit hole that is subscription newsletter and social media services these days. As a result, I decided to end my writing relationship with Substack. I still read articles that are posted there though – I just haven't and will not pay for any individual writer subscriptions until I feel better about doing it – only because I disagree with many of the ways that Substack (and other similar subscription newsletter and social media platforms) are choosing to do business these days. In my opinion, they're very pushy and have tenancies to mislead. Not all subscrption services out there are this way though. Some are very upstanding and deserve to be commended and supported for that.
"If you think cool, you'll be cool." – Bob Newhart
✅ I found Threads and I ❤️ Threads! If you're a fan of minimalism, simpler slower living, or creating meaningful heartfelt connections, you might appreciate this new paired down social media platform too. Since connecting and engaging on social media has never been a strong suit of mine, I prefer to use Threads to practice my short form writing. If you're a writer, you might like Threads for short form writing too.
✅ I saw this cool time lapse monster leaf growth video and read two back in time type articles that baseball and classic radio aficionados might appreciate. Yes, they are Substack reads, so be mindful about subscribing, but they're both excellent photo essays just the same. I also read this cool article about how Targets have been slowly morphing into mini shopping malls. Kinda cool, and really smart and savvy for business now days. 💪 You'll find the links to all the reads below…
And these two bonus articles just in today – Scientists Regrow Retina Cells to Tackle Leading Cause of Blindness Using Nanotechnology and First-of-their-kind eye drops reverse blindness in teen. It's great to know that possible healing might be on the horizon for Paul, myself and other folks who are also blind or visually impaired.
And lastly…
For your ROYALLY AWESOME pleasure – some sweet personalized Labrador Retriever king doggy cards that I recently made for my Zazzle shop. If you or someone you know would like the cards, they'll be on sale for 50% off thru Sunday 8/27. Thank you for your continued business and kind support. If you're interested in knowing, some of the places Zazzle products I've made have gone lately include Santa Clara, CA, Belleville, IL, and Litchfield, NH!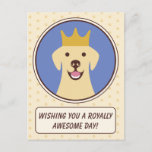 Cute Golden Labrador Royally Awesome Day Lined Hello PostcardShop Now!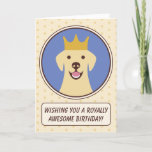 Cute Labrador Dog Royally Awesome Personalized Birthday CardShop Now!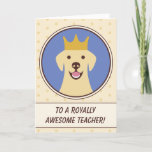 Golden Labrador Retriever Royally Awesome Personalized Dog Thank You CardShop Now!
Thanks so much for the read. If you enjoyed this newsletter, feel free to share it with your friends. Until next time! Enjoy a sweet week!
Juliet
About This Newsletter | Send Coffee Or Snacks ($5 Paypal) | Read More Newsletters

Likes and shares are very much appreciated. Please send your comments by clicking the lil envelope on my LinkTree page here or leaving a comment under the video edition of this letter.

**** THANKS FOR READING! ****